When I was introduced to the Laser over 15 years ago, I was interested but skeptical. I had some demos and did my research. I realized that I could do 95% of what the laser could do with a scalpel blade, and in Veterinary Medicine everything has to pay for itself.

As I thought through the investment, I felt that there were several things that I could do much better with the Laser and even our routine surgeries would be improved.

WHY you ask?... As the Laser is used to make a cut, it seals blood vessels and nerves. This will decrease bleeding that increases the risk of infection, swelling, delayed healing. If it is sealing Nerves, then the pain will be decreased, and I think that we are all for that. It enables us to take off small growths with just a Local anesthetic and no stitches. This will save the time, risk and price of a general anesthetic.

Are there drawbacks to the Laser? Sure there are. It will slow down the surgical incision as compared to the blade. Actually it slows the surgery initially, but since bleeding is decreased, it might actually speed it up. For instance, if I am doing a C-Section my first goal is to get those puppies or kittens out quickly. I am willing to use a blade for the incision, get the youngsters out and then deal with any bleeding that has occurred. As far as cosmetics go, if I compare my incision immediately post-op, the blade incision actually looks better. The laser will ever so slightly swell the incision. In a week, there is no difference.

There is nothing better for oral surgery than a Laser. The gum tissue bleeds easily and stitches don't hold well, so it is perfect for "Zapping off" growths around the teeth. Tonsillectomies are done very rarely in Veterinary Medicine, but anything in the back of the throat (Elongated Soft-palate, Everted Saccules, etc) responds much better to the laser than a blade.

One thing that we strive for in our practice is to be proactive with Pain Control. 25 years ago, we made excuses about why we didn't focus on pain. We convinced ourselves, with the help of older practitioners and teachers, that if our patients hurt some, they would stay calm and heal better. We are much smarter now. Dr. Emrich just returned from a Seminar and we spent a lot of time talking about the things we use and what might work... better, faster, longer, etc. She found out that we are doing a good job, but there are a few things that we will "tweak" over the next few weeks. Laser surgery, for all it does for other surgeries, is chosen be our practice to increase pain control in our surgery patients.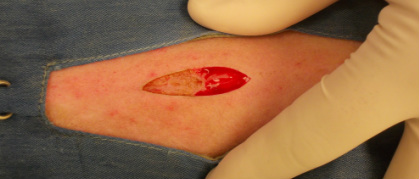 I used Ava as a guinea pig. Her Spay incision is longer than normal because I cut the Left with the Laser and the Right with a blade. You'll notice the Laser decreased the bleeding.

As I am suturing the incision after entering and closing the abdomen, there is still more bleeding on the Blade cut side.

After closing, notice that there is a little thickening on the Left side with the Laser cut. After a week, I couldn't tell which was which and now the entire length of the scar is barely visible.